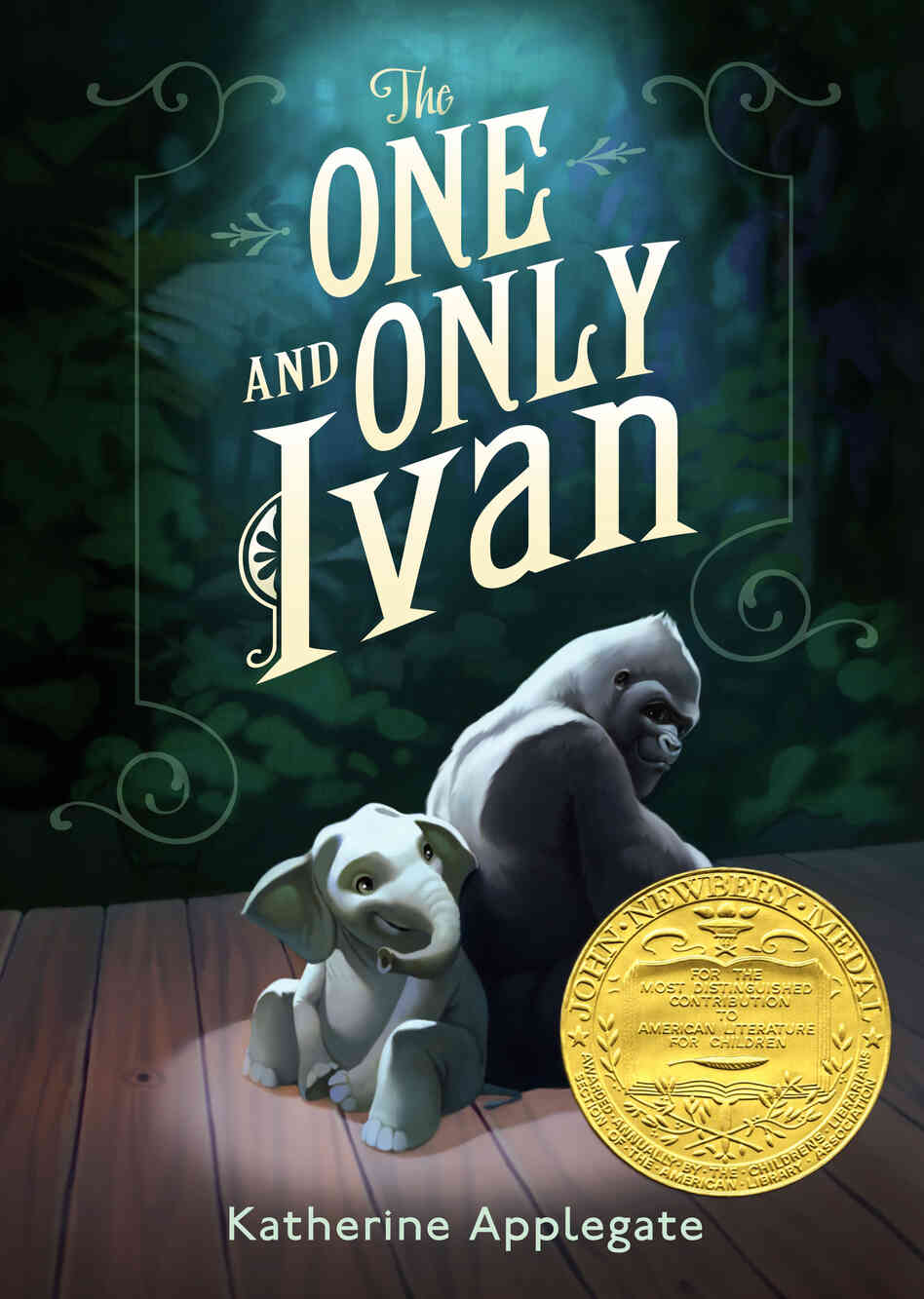 Bibliography
Applegate, Katherine.
The One and Only Ivan
. New York: Harper, 2012. Print.
image from:
http://media.npr.org/assets/bakertaylor/covers/manually-added/one-and-only-ivan_custom-91a7b2ad0737f02bbbb6729412e1aa4de048c3f9-s6-c30.jpg
My Thoughts
I kept seeing "buzz" about this book on my library list serv, so I looked it up and found that is was a "juvenile" book. I contacted the elementary librarians and asked to borrow it. All of their copies were checked out, but one would send the book to me when it returned.
I got it Tuesday and started reading it that night. It was such a cute story. Ivan is a silver back gorilla that was captured as a young animal and raised with humans. His "father" Mack now keeps him in a "domain" at the mall along with Stella the elephant and Snickers the trick dog. Bob is also there, even though he is "homeless" and wonders in to sleep on Ivan's belly. Later in the story, Ruby joins the attractions.
The opening chapter is "Hello. I am Ivan. I am a gorilla. It's not as easy as it looks" (Applegate 1). Indeed, as you read the story, you understand that being a gorilla is complex. Ivan and his sister Tag were captured as young gorillas. Ivan survived. He is an artist and explains that he draws things in his cage. "I often eat my subjects before I draw them" (Applegate 17). A human named Julia comes each day to the mall, as her dad George is the custodian. Julia is an artist, too, so she understands Ivan's drawings. Julia's understanding actually creates a conflict in the story.
Ivan is smart and thoughtful and funny. He shows the reader the human race through another species' eyes. "At times...I wish humans could understand me the way I can understand them" (Applegate 22). When a little boy remarks that Ivan must be lonely, Ivan wishes he could tell the boy,"With enough time, you can get used to almost anything" (Applegate 22). How true, Ivan.
Ivan isn't the only wise one in the mall. Stella the elephant shows her wisdom when she remarks that "old age is a powerful disguise" (Applegate 31). Stella and Ivan are pals, and Ivan makes a promise to help the baby elephant Ruby. Stella is a wonderful story teller because she doesn't forget anything. "I always tell the truth. Although, I sometimes confuse the facts" (Applegate 66).
The first chapter hooked my daughter into wanting to read this book. Well, I actually read some of it to her before going to sleep at night, which I enjoyed sharing the story with her. I don't know how much longer my little girl will let me read to her. Yesterday, she told me she finished the book at school. She really enjoyed it, and so did I.